To anyone who has heard of the Battle of Britain, the name Biggin Hill airfield will strike a chord and I am sure that with its aeronautic connections it was no accident that Breitling chose this particular airport from which to transport a few English based watch writers to their factory last week. I was fortunate enough to be included in the group and the following is my report on a day out with Breitling.
I arrived at the terminal of Jet Aviation (incidentally, a Geneva based firm) around 7am; somewhat early for our planned 8:15 departure and, by 7:30, the rest of the party had turned up and, looking out the window we could see our plane being readied.
We looked longingly at the big executive jet, but knew already that it was the small twin turboprob Beech that would be carrying us to Switzerland. However, I have to emphasize that the choice of plane was not because Breitling were trying to save money, rather it was because they were trying to save us time. The normal way to get to the Jura based watchmakers is to fly to Geneva and then a two hour drive to the Jura. But there is a small airstrip called les eplatures which is less than a mile from Breiling's factory (and Patek's and Panerai's and Catier's and Tag Heuer's and………… well, you get the picture). So that was where we were heading.
Taxiing out to the runway, we passed this Avro 148 jetliner.
Note the F1 logo on the tail, it is Bernie Ecclestone's personal plane
The idea of a private plane is perhaps more alluring than the reality, as essentially it was like being in the back of a VW Golf for 2 hours, albeit with the occasional glass of champagne.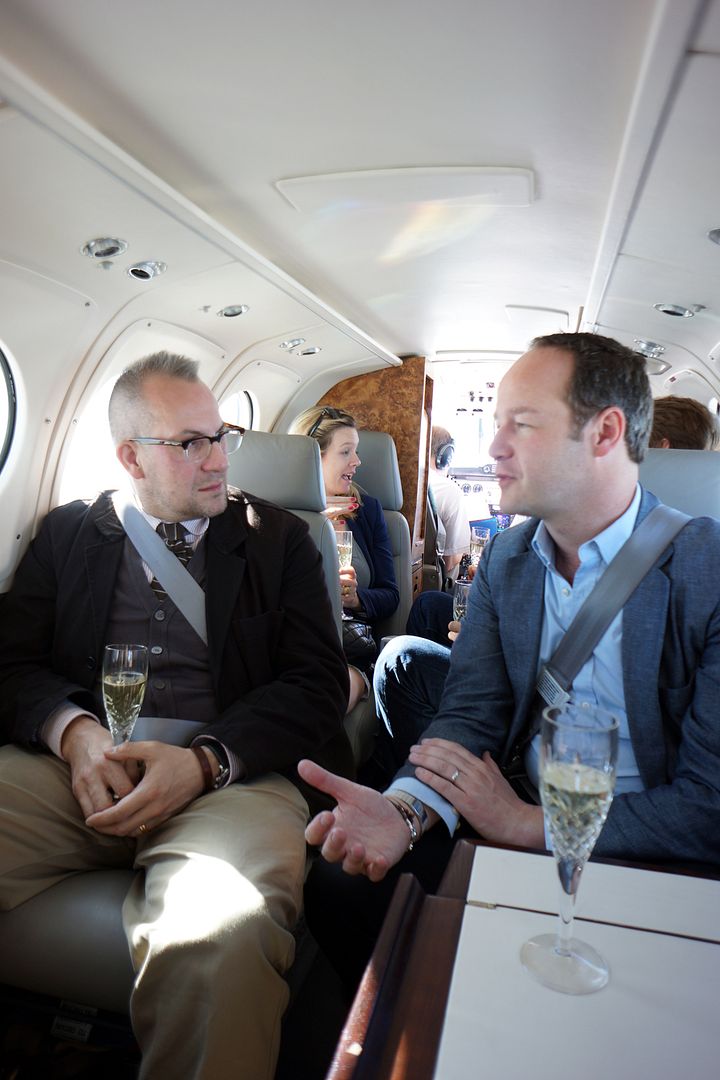 But, after what was a remarkably swift and smooth flight, we landed at the strip, which is one of the highest in Europe, situated as it is amidst the Jura mountain range, separating France from Switzerland.
When we deplaned, what was the first sight to catch our eyes?
And, as we walked to the terminal, we passed a small hanger; I (of course) could not resist poking my nose inside.
Once in the terminal we had to wait whilst the Swiss immigration & customs guys checked our passports and phoned HQ to make sure that we were not persona non grata, then it was into our waiting minibus and a 2 minute drive to what looked like a deserted farmhouse where we were decanted. We tried the door but it was locked tight, so I wandered around and took a few images.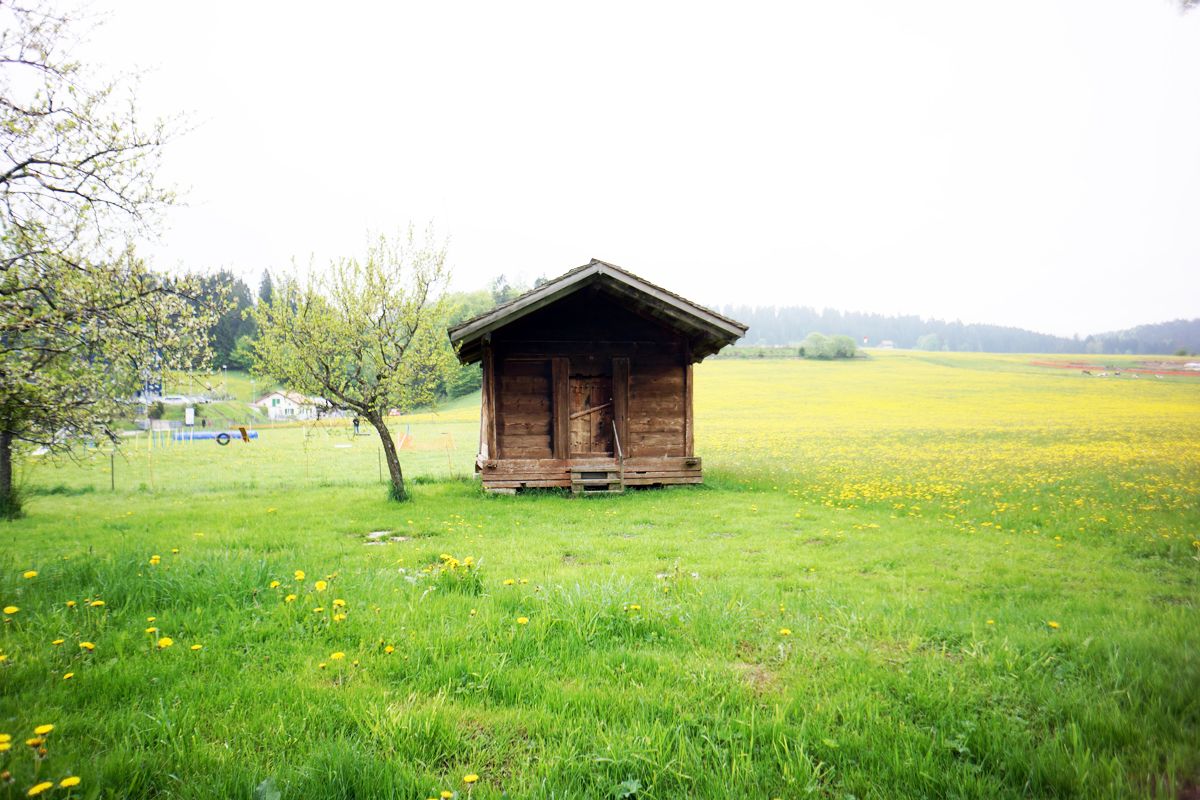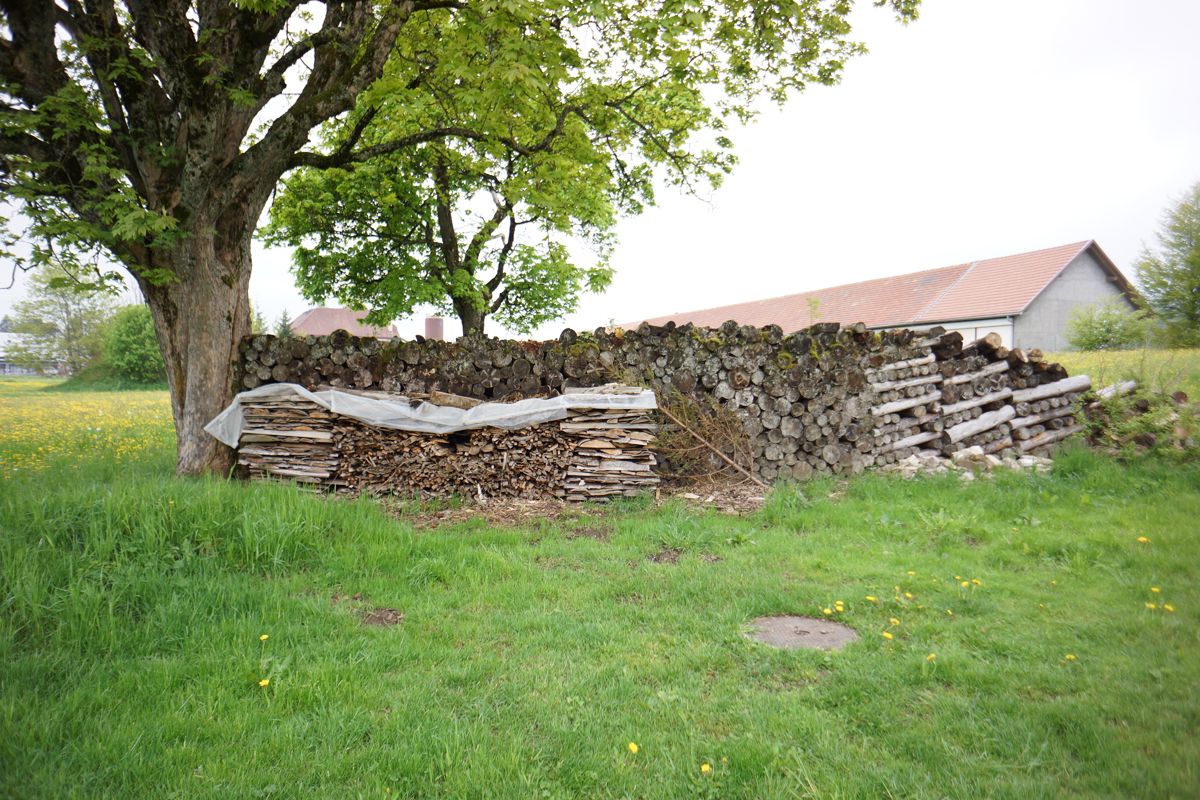 At the other end of a huge meadow were a few industrial building: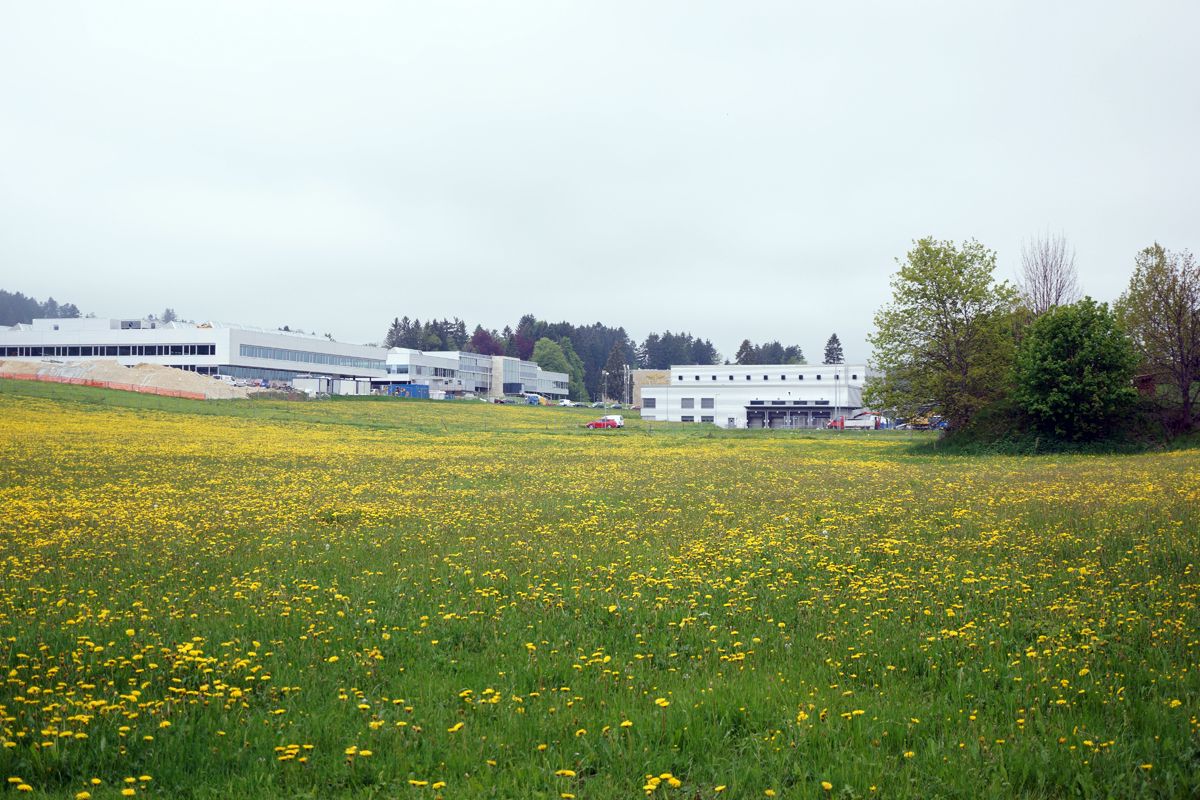 When I zoomed in on them, I was able to see a sign the same colour yellow as the field of dandelions.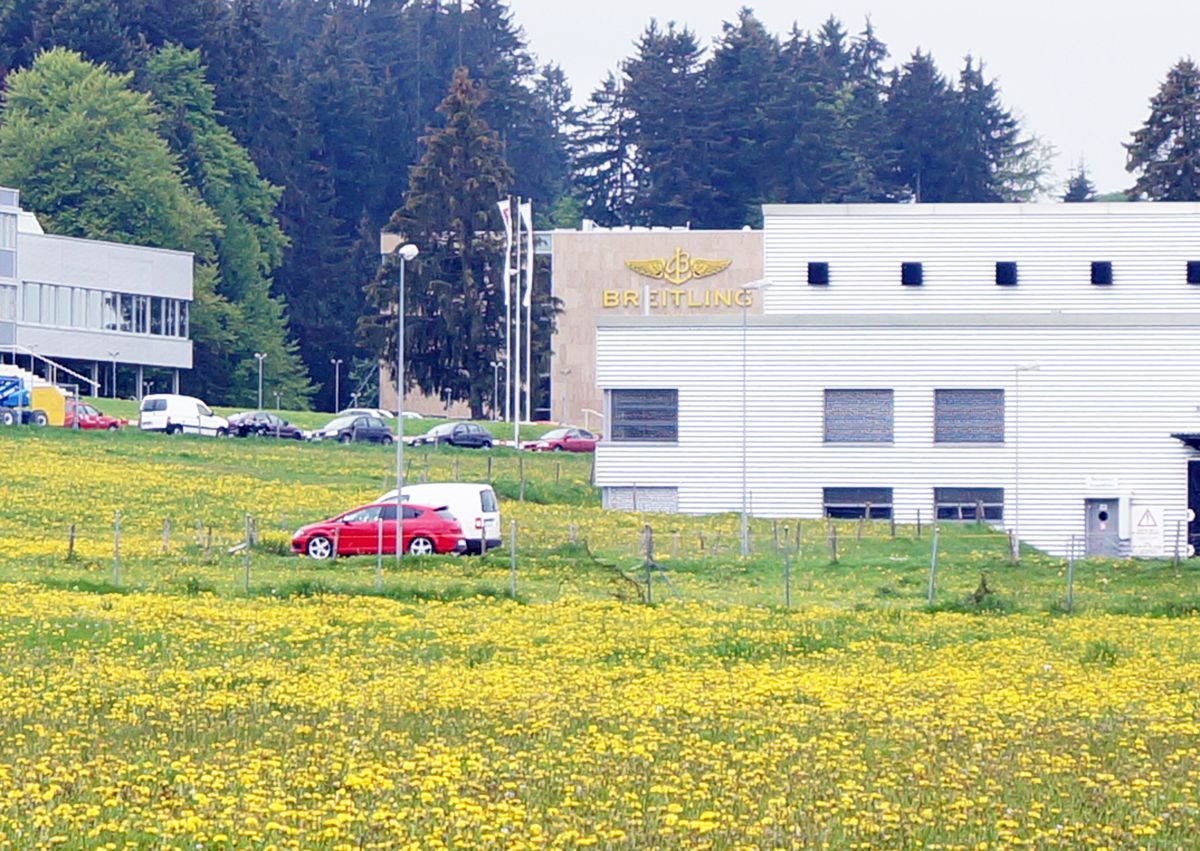 Then we were summoned inside the building, which was now open; we stooped to enter through the low door and found ourselves inside a quite small but very, very high room, with an open fire against one wall.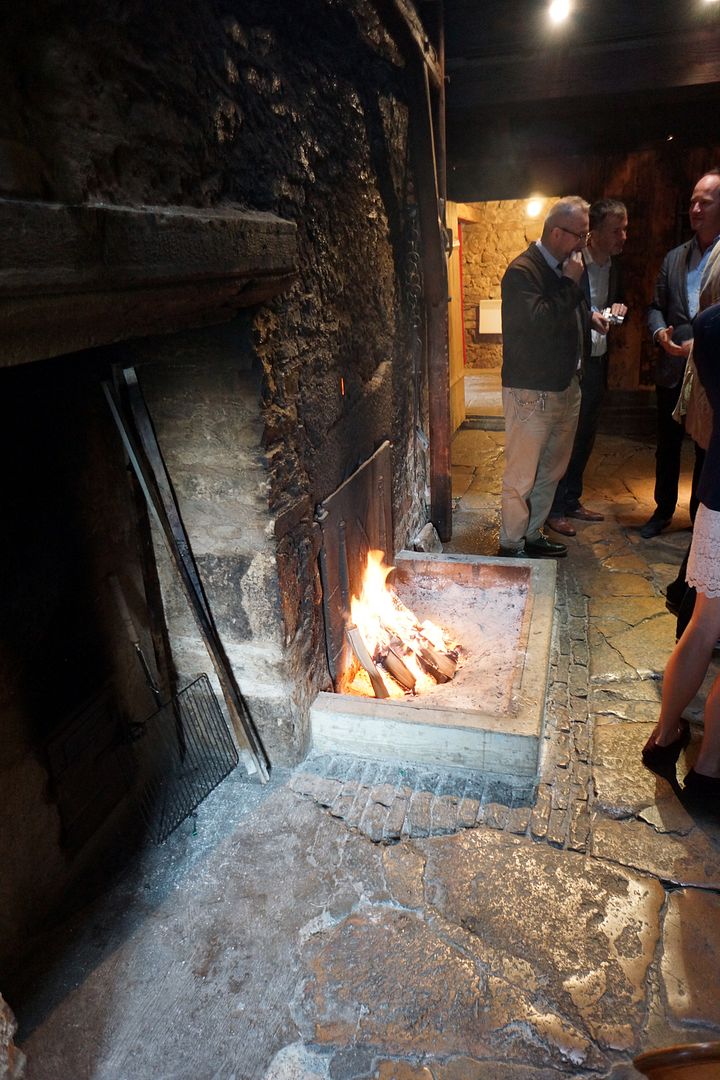 There was no actual chimney, but high above the fire was an opening in the ceiling.
Then a gentleman in what can best be described as a colourful outfit joined us and explained (in French) the history of the building.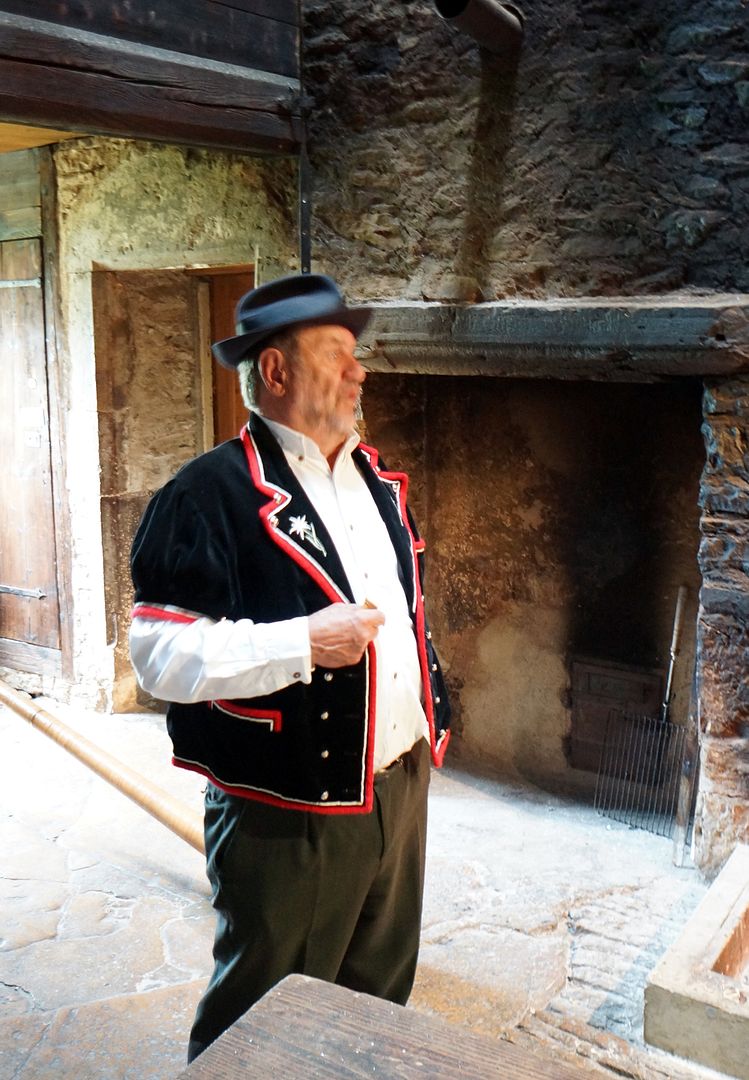 He explained that the lack of a fireplace and chimney was due to the fact that the room was used as a smokehouse, to preserve meats and cheeses made during the short summer to be eaten during the long cold winters. He then began to play on an instrument that he just happened to have with him.
After a couple of Swiss tunes, he then surprised us with the Sinatra tune, 'Strangers in the Night' and when he had finished he pointed us to the table in the middle of the room where an implement almost as strange as his alpenhorn was sitting there.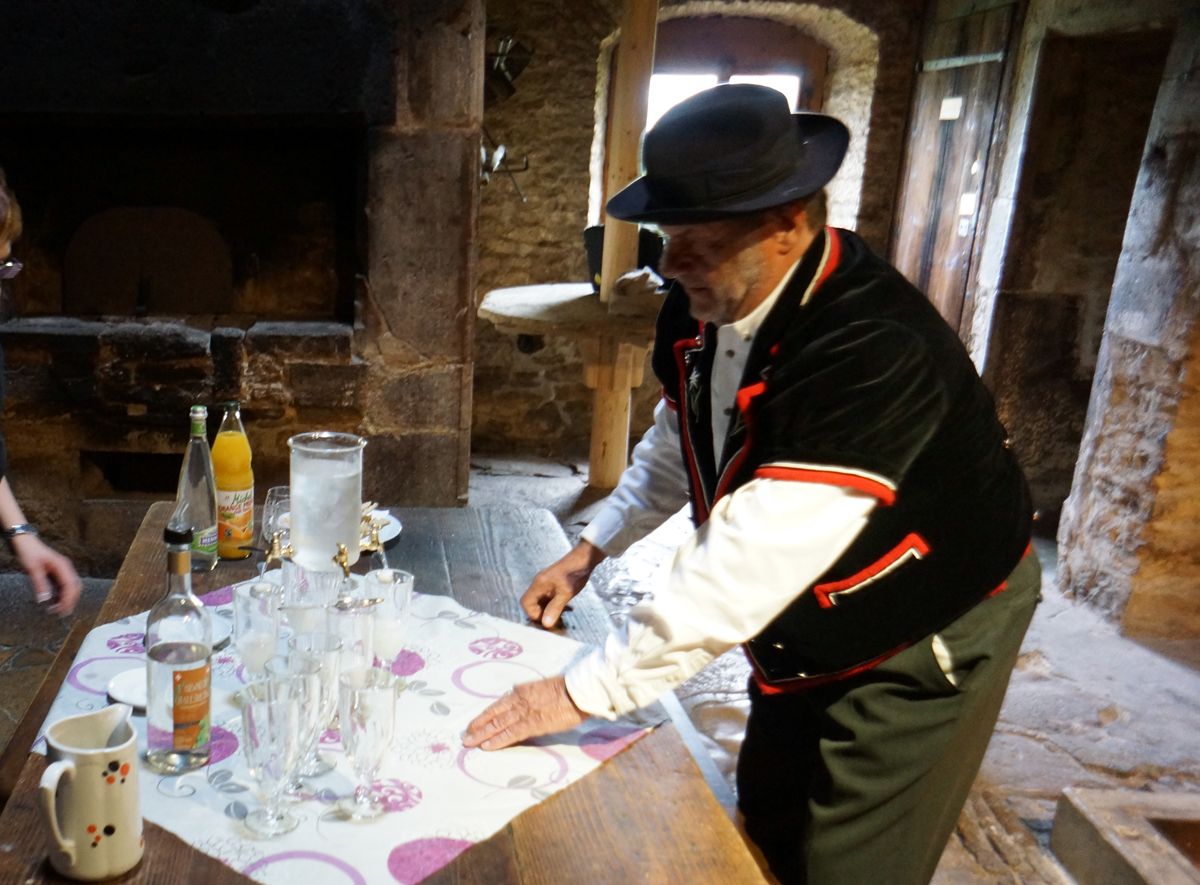 It was a device for filling four absinthe glasses at once; yes, absinthe at 11am (although for us Brits it was actually 10am), I had a sip or two, not wanting to ruin any more of my brain and realizing that I had a factory tour and an interview ahead of me. After the rest of the party had taken refills we wandered through to another room in the house where Jean-Paul Girardin, whose title is Vice President of Breitling, but who is (to all extents) the COO of the firm, responsible for the day to day running of the business.
We sat round the table with him and whilst an excellent four course lunch was served, with copious amounts of wine, the food played second place to the Q & A session with M. Girardin. We got a lot of information from him about production numbers and plans, but the stuff I loved were the almost incidental anecdotes he told us. For example did you know that Breitling was a major supplier to the RAF during WWII, but not for watches; rather for cockpit clocks, during the six years of WWII, they provided over 100,000 of them. Delivery was not to the UK, but rather to a long torchlit meadow adjacent to the factory where RAF Mosquitos would land on moonless nights. Factory workers would carry boxes of clocks on stretchers down to the waiting planes where they would then be loaded into the empty bomb bays and then the Mosquitos would scoot back across occupied France, too fast for the German night fighters to bring their precious cargo to UK.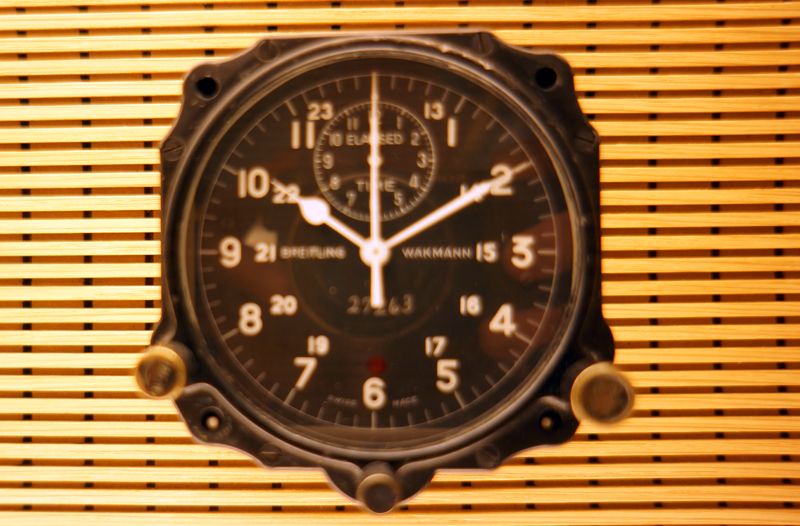 This is one of those cockpit clocks, although supplied by Breitling's US importer to the US Army Air Corps during WWII.
Most watch firms have a design department that deals with the look of the watches and a marketing department that handles all the retail and advertising images. Breitling has both functions handled by one person, Theodore (Teddy) Schneider, the owner of the company and so retains a consistent image.
Like most brands, they are heavily into Boutique openings, but unlike most brands with Boutiques, they have decided NOT to do high end limited editions, which means that their co-operation with Renaud & Papi (who made all the tourbillon Bentley watches) is now at an end. Although the Breitling by Bentley line DOES continue and new models for the line are planned.
They currently make around 150,000 watches a year with about 40,000 of them having their in house calibres, the plan is to bring this up to 50,000 in the next year or so and to double this number in two or three years.
Then it was time to head back to our minibus (and M. Girardin to head to his Porsche) and for is all to visit the factory; which was around a kilometer away.
Inside we were greeted by the bizarre sight of three busts of Leon Brietling, the firm's founder in contrasting pastel shades.
We were then ushered into a small conference room where the walls displayed the history of the brand, both in vintage advertisements and examples of the actual watches in those adverts.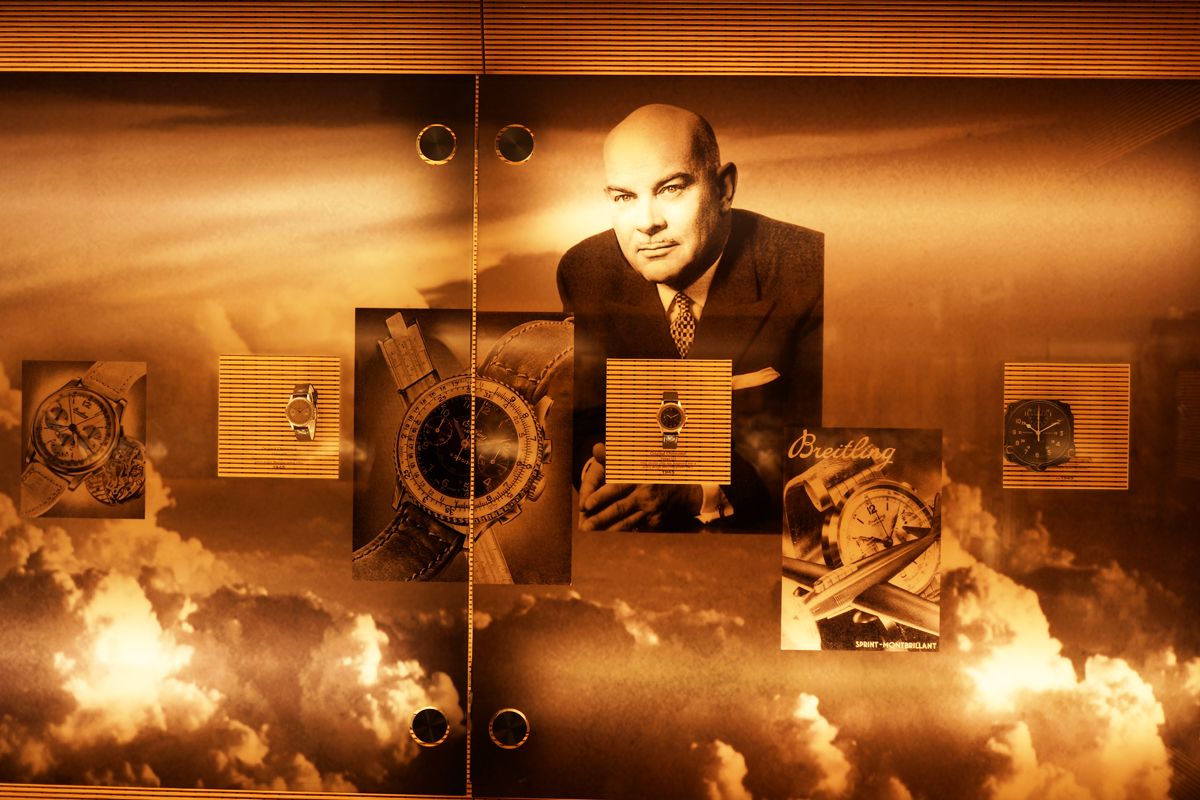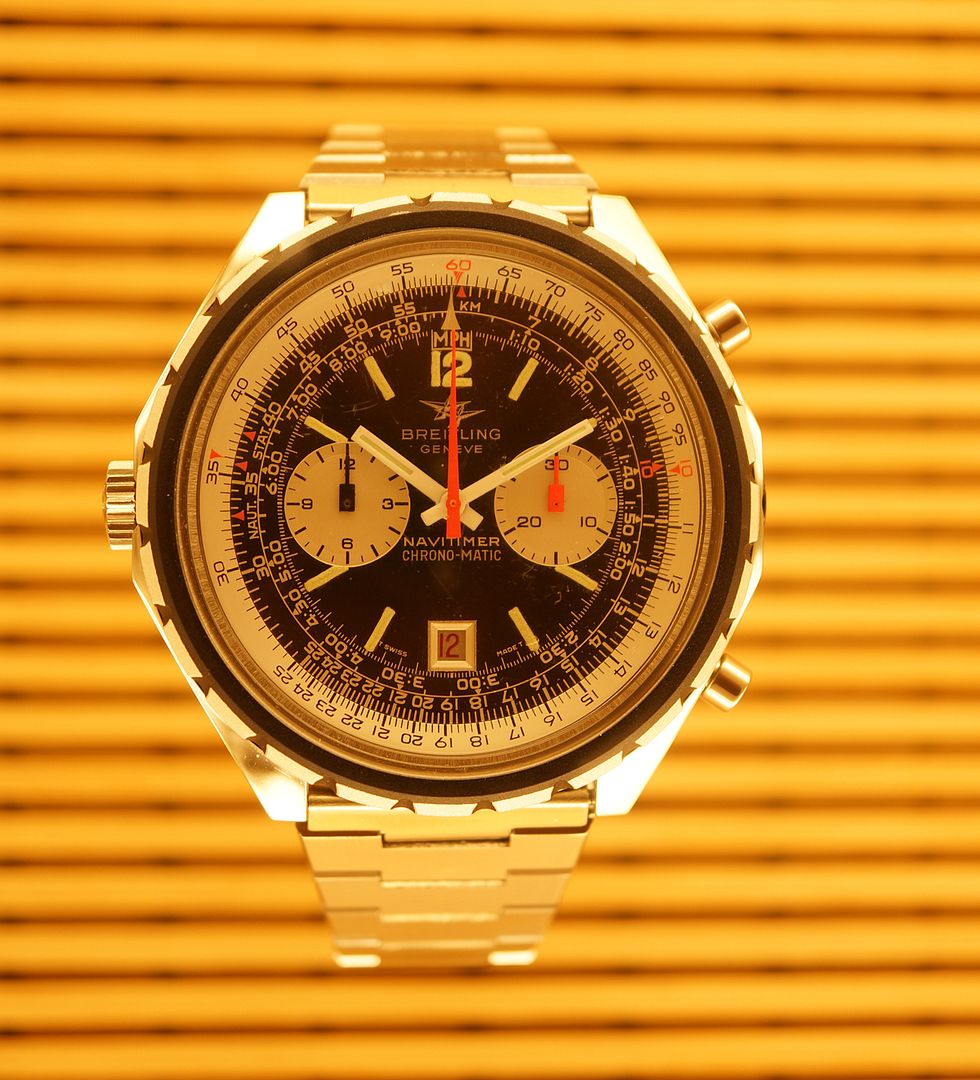 The most interesting advertisement to me was this one, dating from the 1940s, showing a range of Brietling chronographs and their chronometer certificates.
I knew that currently Breitling submit all of their watches for COSC certification, but I was utterly unaware that they submitted them over 60 years ago.
We were ushered down the corridors, which were decorated with aviation themed art on the walls, to the actual watchmaking area.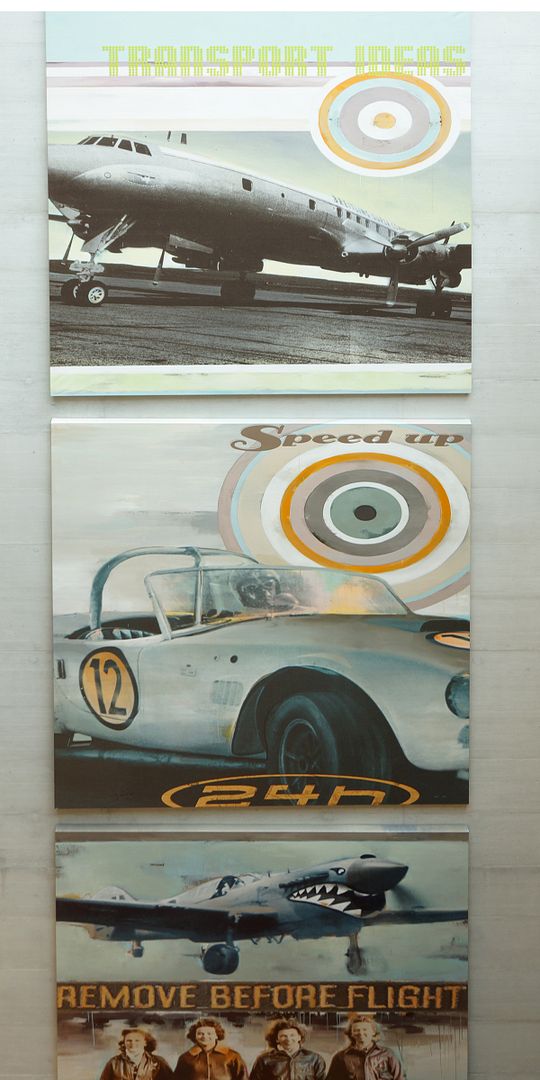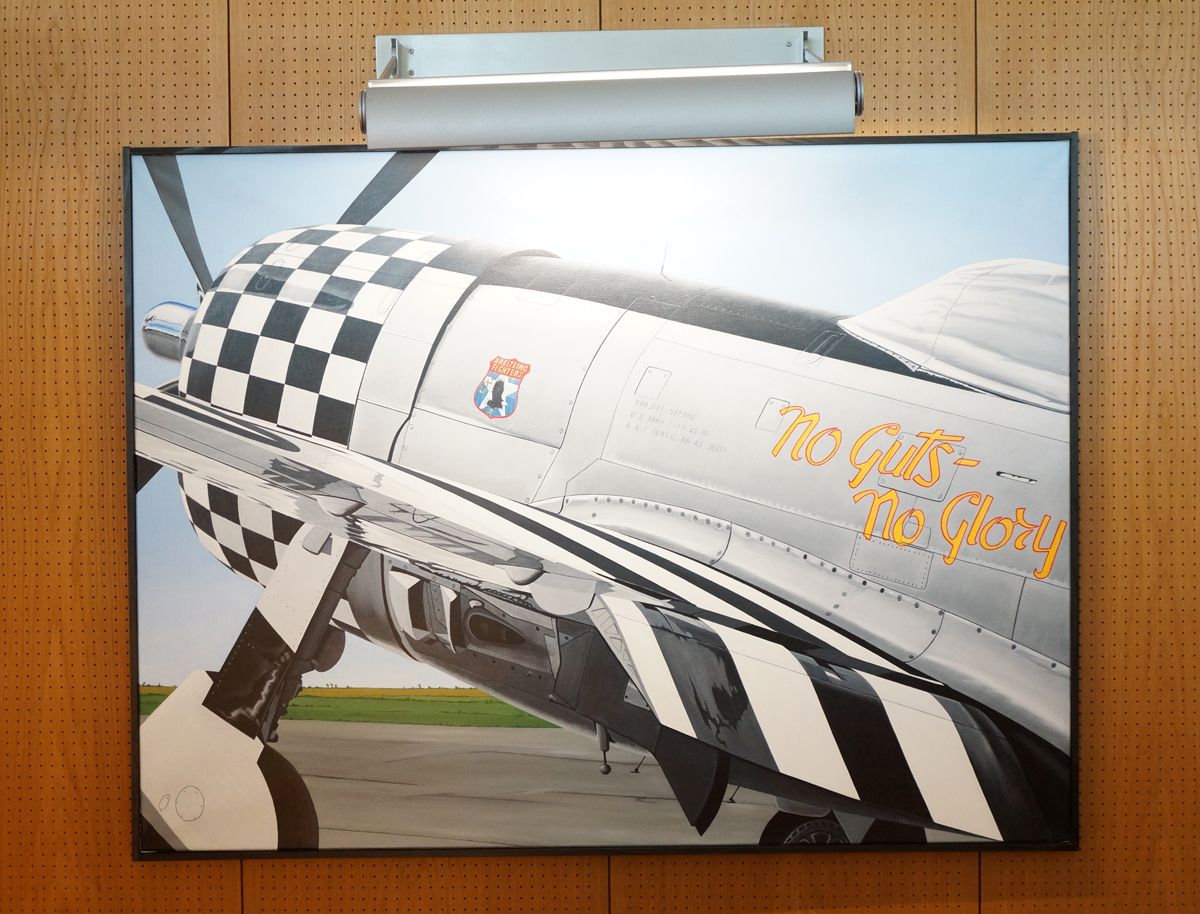 As is normal with every factory visit I have been on (with the notable exception of Seiko) we were not allowed to take any photographs during the tour of the watchmaking, testing and assembly areas. So the best I can offer is this image of M. Girardin in the stores area.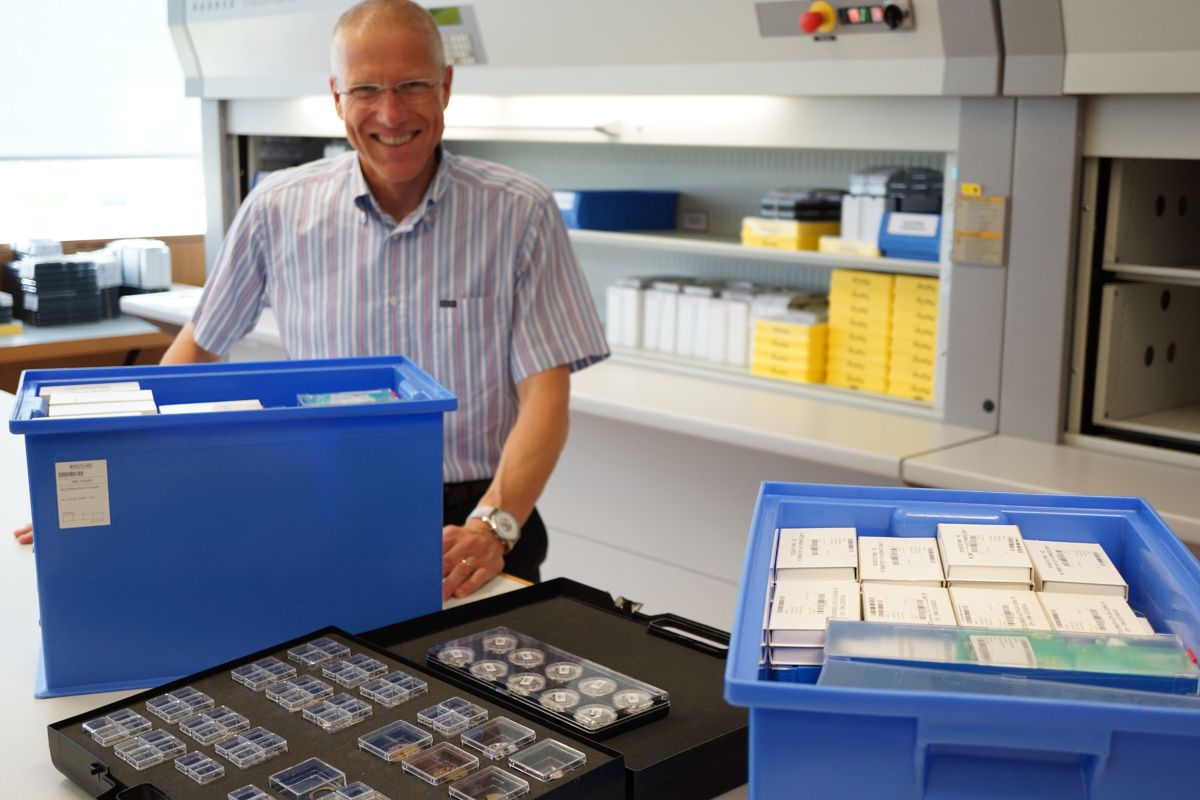 The large blue boxes contain parts from either suppliers or from other factories within the company; one of the most amazing things I learned about the firm is that they have designed their own containers to transport parts, modules, movements and watches between departments and factories.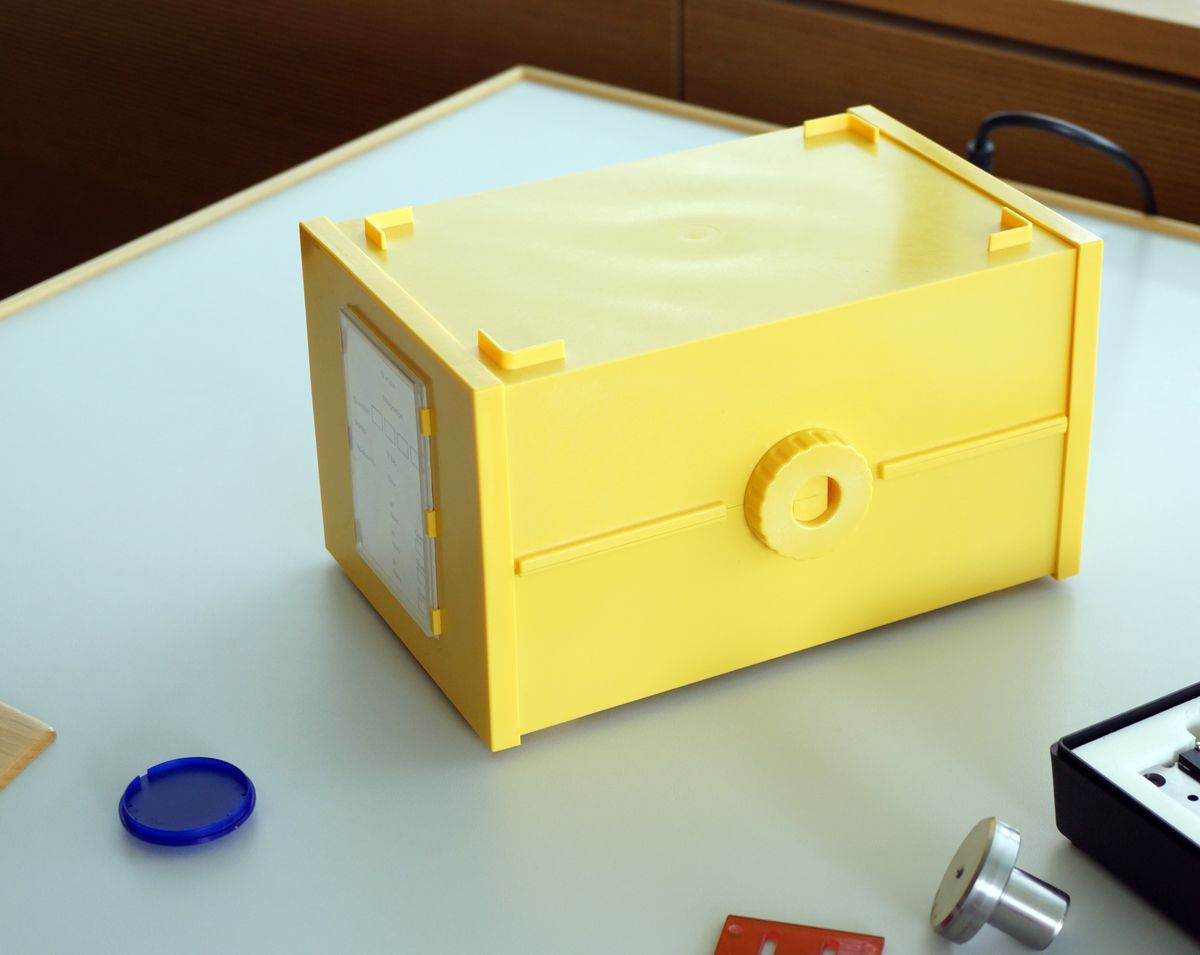 This unremarkable yellow box, splits into two to reveal shelves each capable of holding interchangeable holders.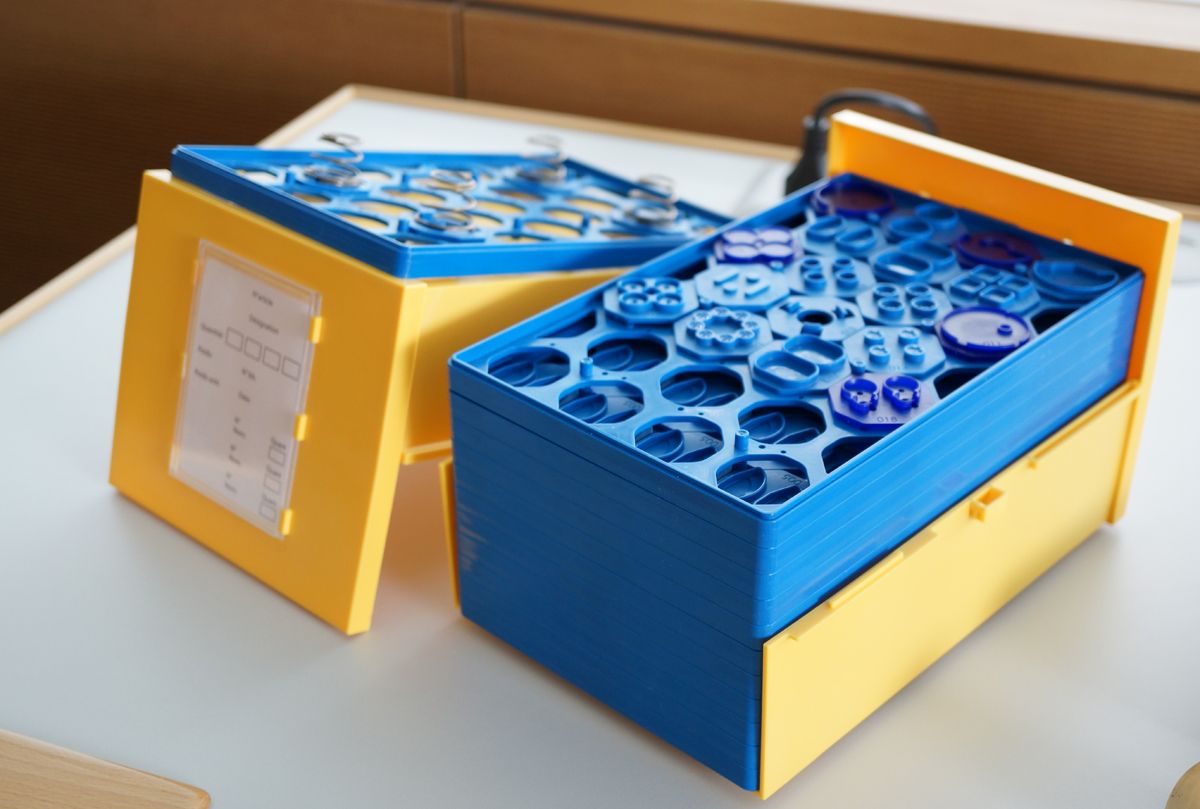 You can see how the little modules inside the frame/shelf are of different sizes and configurations so as to accept the different parts, and as the modules can click in and out of the frame/shelf, it means that each part is perfectly located and secured during transport.
Once the two parts are clicked together, the yellow wheel in the centre is turned to lock them together. If they put this much effort and ingenuity into a box to hold parts, just think about what goes into the watches!
M. Garardin placed much emphasis on the extra effort needed to get a movement through the COSC tests and how this extra effort has enabled the firm to give all their new watches a five-year warranty.
Small local suppliers supply all the dials, hands, bracelets and cases and Breitling makes a point of at least double sourcing every one of these, so that a problem with one supplier will not result in a halt in production.
Despite the fact that we were not permitted to photograph anywhere during the factory visit, I saw nothing that could not have been publicly displayed, the attention to cleanliness was as impressive as any factory I have seen and the testing area was one of the best. Their use of the latest technology; multi axis drilling machines, automated parts delivery and high magnification video for balance wheel checking were amongst the most advanced I have seen.
I was thoroughly impressed with everything I saw, and one thing in particular made me smile; I have never seen as many Leitz microscopes in one place in my life, and they weren't there for show, at least 50% of the ones I saw were in use by workers checking parts for consistency. This is obviously a company who want to be 110% sure that a watch is perfect when it leaves the factory.
Then, it was back to the minibus and the airstrip where our trusty Beech awaited us, however parked next to it, like a guard of honour, was one of Breitling's fleet of aerobatic planes.